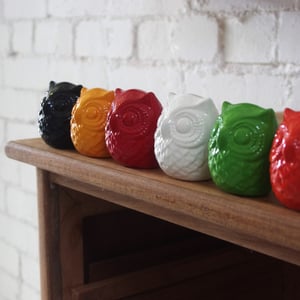 $

24.00
Grandpa Owl is just waiting to share his wisdom with you! He has a story or two to tell, that's for sure.
Grandpa owl is made from ceramic plaster with a smooth enamel painted finish. He measures approximately 6.5cm in height.
Currently available in red, green, orange, yellow, black and white.
You may with to take a look at our Grandma owls or Grandma/Grandpa set which is available for a small discount as we think they are happiest when they stay together. :)
Handcrafted in Melbourne by Pirdy