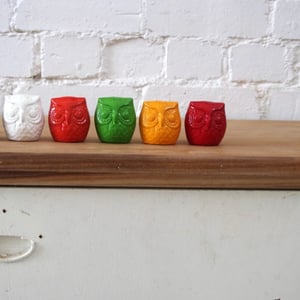 $

22.00
Grandma owl is just waiting to find a new home with you! I imagine that as a wise old creature she would love to sit in your kitchen and give advice on cooking or beside your favorite chair and impart her wisdom in the art of knitting!
Grandma owl is made from ceramic plaster with an enamel painted finish. She measures approximately 5.5cm in height.
Currently available in red, orange, green, yellow, black and white.
You may also like to check out our Grandpa owls and Grandma/Grandpa sets which are available for a small discount as we love to see them stay together.